Posts tagged "Research"


Dallas, Texas (PRWEB) January 27, 2014
3D printing or Additive Manufacturing is a transformative technology. It has brought a revolution in every industry it has entered- from manufacturing to retail and healthcare. 3D printing provides freedom to create and manufacture customized products as there is no additional cost for complexity and uniqueness. It has the ability to mass customize and locally print products as per the specification at the required point of time in a cost effective way. It also significantly reduces undesired environmental impacts of traditional manufacturing.
The report titled "Global 3D Printing Market: Trends and Opportunities (2012-2017)" analyzes the potential opportunities and significant trends in the global additive manufacturing industry. The report also provides detailed analysis of the global market sizing and future growth of 3D printing systems by products and services revenue stream. The report also profiles and analyzes the business strategies of the leading companies operating in the segment, including their expansion plans.
Complete report available @ http://www.marketreportsonline.com/295912.html.
The major trends observed in the 3D printing market globally are a focus on rapid prototyping, mergers and acquisitions in the industry and increasing innovative use of 3D printing technology in diverse industries. Over the next five years, industry the demand and revenue stream of the industry are forecasted to continue their upward trajectory as 3D printers explode in popularity and more customers, including an expanding at-home hobbyist market, join the 3D printing revolution. Major companies operating in 3D printing segment like Stratasys Ltd., 3D Systems Corporation and The ExOne Company are expanding their reach in various geographies to get a share of the growing market.
Buy a copy of this report @ http://www.marketreportsonline.com/contacts/purchase.php?name=295912.
Geographical Coverage: Global, Asia- Pacific & Japan
Company Coverage: Stratasys Ltd., 3D Systems Corporation & The ExOne Company
Major points from Table of Contents (http://www.marketreportsonline.com/295912-toc.html.) Are listed below:
1. Executive Summary

2. 3D Printing Industry Overview

3. Rapid Prototyping

4. 3D Printing Processes

5. 3D Printing Technologies

6. Global 3D Printing Market

7. Asia Pacific: 3D Printing Market

8. 3D Printing Market – Growth Drivers

9. 3D Printing Market – Challenges

10. Market Trends

11. Competitive Landscape

12. Company Analysis
Explore more reports on IT & Telecommunication Market @ http://www.marketreportsonline.com/cat/information-technology-market-research.html.
Other Category Related Reports:
Telecommunications Market Research Reports @ http://www.marketreportsonline.com/industry/telecommunications-market-research.html.
About Us:

MarketReportsOnline.com is an online database of regional industry research reports, company profiles and SWOT analysis studies for multiple industries, organizations and market segments. Our sales and research experts offer 24 X 7 support to our customers through phone and email communication. Not limited to the it & telecommunication industry, MarketReportsOnline.com offers research studies on agriculture, energy and power, chemicals, retail, environment, food and beverages, agriculture, consumer goods, healthcare, advanced materials, medical devices, semiconductor and electronics and much more.
---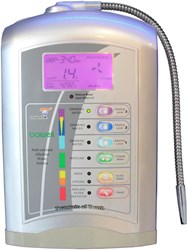 (PRWEB) November 30, 2013
Cancer, diabetes, and aging are all hot topics among aging Americans. The PubMed study Electrolyzed-reduced water protects against oxidative damage to DNA, RNA, and protein examines these alkaline water benefits. Electrolyzed reduced water is created in the electrolysis chambers of water ionizers like the Bawell Premier model 1195 that is on sale now for Cyber Monday. This study provides evidence of alkaline ionized waters antioxidant benefits. (PMID: 17159237)
Bawell, an experienced and reliable manufacturer of alkaline water ionizers, is now making access to healthy water even easier by offering deep discounts on its Premier water ionizer during the 2013 Cyber Monday sale. The Premier is one of the companys best-selling and highest rated ionizers that is designed to produce almost any type of alkaline or acidic water. Bawell hopes that by offering this top notch product on sale, it will enable consumers to take advantage of alkaline water benefits.
Our Premier ionizer comes with a variety of features that make it very easy to produce both alkaline and acidic water, a Bawell representative stated. The most notable features being the ability to produce water on a continuous pH scale ranging from 3.2 to 10 and easy installation. We also offer a lifetime warranty on every ionizer, the water rep. said. Consumers can test the health benefits of alkaline ionized water with complete confidence in our products.
The representative laid out many of the medically researched health benefits of alkaline water by referencing numerous PubMed medical and scientific studies that show the ability of ionized water to provide relief for many different types of diseases. The PubMed #22844861 study shows how pH water of 8.8 can neutralize pepsin which causes acid reflux. You no longer have to suffer the damage and pain caused by acid reflux simply by drinking this water, the representative said. Imagine the relief that can bring.
Two other studies highlight diabetes fighting abilities of ionized water, according to the representative. Both PubMed #16945392, and PubMed study #17268057 provide data on how drinking this water contributed toward better blood sugar control in diabetic mice, the water ionizer rep explained. Considering how common diabetes is becoming, the ability to help manage blood glucose and insulin levels simply by drinking alkaline ionized water is something worth investigating.
The representative also discussed another study which indicates that alkaline water benefits the growth of good intestinal bacteria.(PMID: 15617863) Because of these facts, Bawell remains devoted to making our water ionizers as widely available and affordable as possible, that is why we are running the 2013 Cyber Monday sale. We want everyone thinking about buying a water ionizer machine to give it a try and hope this sale will encourage just that.
About Bawell
Bawell has more than 10 years of experience producing top quality water ionizers and possesses a passionate commitment to healthy water. The company designs all of its products to be as accessible, affordable, and effective in order to provide as many consumers as possible with alkaline drinking waters many benefits. Visit bawellwaterionizers.com to learn more about these medically researched health benefits.
---