Posts tagged "Fiber"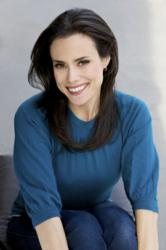 Easton, MD (PRWEB) April 15, 2013
Konsyl Fiber, the top doctor recommended all-natural psyllium fiber supplement, has joined nutrition expert Keri Glassman, RD, to help educate people on the importance of fiber and its numerous health benefits. Fiber is important for overall health and wellness, can help lower blood cholesterol and prevent cardiac disease, as well as manage blood sugar levels and insulin sensitivity. In addition, fiber keeps you feeling fuller longer, preventing you from snacking on unhealthy foods between meals and from gaining those extra pounds. Its recommended that people get approximately 25-38 grams of fiber per day, however on average, most people only eat 10-15 grams per day
Fiber has numerous health benefits so it makes sense to make a commitment to start tracking and increasing your daily fiber intake, explains Keri Glassman, RD. I encourage everyone to think about fiber five times a day to make sure you are getting your daily recommended fiber intake.
To make sure you are getting enough fiber, Glassman suggests eating a varied diet of fruits, vegetables and whole grains and supplementing with an all-natural psyllium fiber supplement like Konsyl Original Formula, which has 75% more fiber per serving than other leading brands, with 6 grams of psyllium fiber per servingequal to 3 grams of soluble fiber.
Here are Glassmans five tips for thinking about fiber everyday:
1.????Start the day off right! The last thing you want to do is skip breakfast or lunch. Instead, start your day off right with a healthy breakfast to give you energy throughout the day. Try making a protein shake and adding in a teaspoon of Konsyl psyllium fiber. This will help keep you full longer and therefore less likely to indulge in bigger meals or reach for those high calorie snacks.
2.????Pile on the veggies. Like your mother always said, dont forget to eat your vegetables! There is a reason why she said this, its the fresh fruits and vegetables that are going to add healthy fiber to your plate and help fill you up. You can also sprinkle a little Konsyl mixed with parmesan cheese on your veggies…more fiber and a great taste!
3.????Snack Smart. Carrying a healthy snack, such as almonds, edamame or an apple, will offer up a convenient snack thats high in fiber. This will keep you full in between meals, as well as insuring that you have something in your stomach before you show up to a late dinner or summer happy hourmaking it less likely that a drink or two will take a toll on your digestive system.
4.????Bake it in! Why not amp up your favorite recipes with a little extra fiber? You can easily bake in a powder psyllium fiber supplement, such as Konsyl, into your banana bread recipe or other family favorites; this will help you feel full and consume less of the baked goods.
5.????Whole Grain Switch Up. No doubt many of the recipes you make on a regular basis can be adapted to whole grains, which are higher in fiber than processed wheator even better, try ancient grains, like Kamut wheat or quinoa. This will make some of your favorite dishes a bit healthier and fill you up so you wont be as likely to go for round two.
When increasing fiber intake, Glassman reminds people to add fiber gradually, drink plenty of water, to eat a varied diet to make sure you are getting both soluble and insoluble fiber and to incorporate a natural psyllium fiber supplement like Konsyl.
Learn more about the fiber, including the difference between soluble and insoluble fiber, in this YouTube video: http://www.youtube.com/watch?v=jSSYMBlUlWs. For more information about Konsyl please visit http://www.konsyl.com or to coordinate an interview with Keri Glassman, please contact Lauren Verini, Lauren(at)adinfinitumny(dot)com, 212.693.2150 x311 or Leesa Raab, Leesa(at)adinfinitumny(dot)com, 212.693.2150 x314.
About Konsyl

Headquartered in Easton, MD, the Konsyl Brand has been around for over 75 years. Konsyl is the number one doctor-recommended, all-natural psyllium fiber supplement. Konsyl Original and Konsyl Easy Mix psyllium fiber products are all natural, gluten-free and contain no sugar or sugar substitutes. Konsyl is safe for celiac patients, diabetics and pregnant and nursing mothers. Learn more at http://www.Konsyl.com.
About Keri Glassman, MS, RD, CDN

Nationally recognized nutrition expert and published author Keri Glassman is the founder and president of Keri Glassman, Nutritious Life, a nutrition practice based in New York City. For years Keri has been a leader in advancing a "whole person" approach to health and wellness. She has dedicated her career to creating services and promoting education through her "Nutritious Life" brand. Learn more about Keri Glassman at http://www.NutritiousLife.com
---